Equitable Business Development
MassHousing's Equitable Business Development Division was created to advance and foster equitable business growth across the Agency.
Leverage the affordable housing ecosystem to create wealth-building and upward mobility for Black, Indigenous and People of Color (BIPOC) in Massachusetts.
Increase BIPOC homeowners and multifamily projects/portfolio balances to minority owned or senior principal borrowers by promoting lending products and subsidy programs that significantly impact socially disadvantaged communities.
Provide advancement opportunities for diverse businesses and BIPOC workforce with a primary focus on MBEs in Goods & Services; Construction/Property Management; and Talent & Workforce-Recruitment, Retention and Growth.
Massachusetts Affordable Housing Emerging Developer Report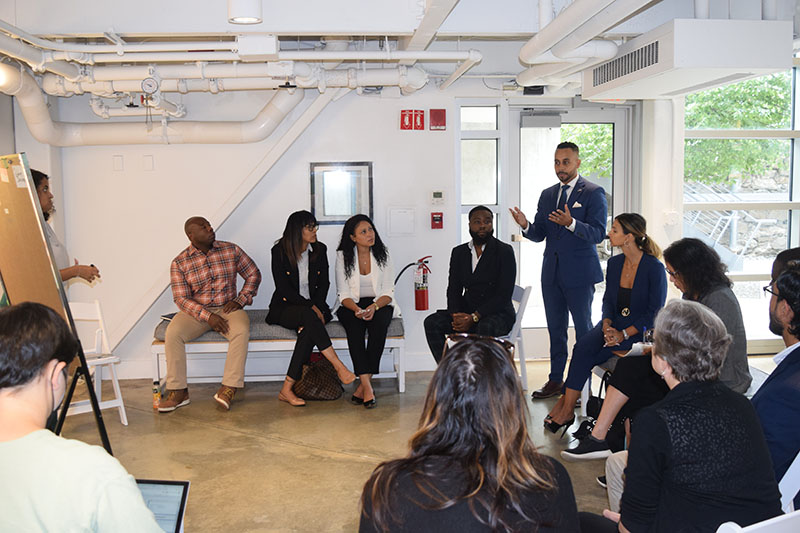 MassHousing's Tony Richards speaks to attendees during the Emerging Developers Listening Tour
In 2022, MassHousing concluded a statewide listening tour that included stops in five regions of the Commonwealth: Metro Boston, Central Mass., Western Mass. North Shore and South Coast. The Tour was held in partnership with the Mel King Institute and Builders of Color Coalition and sought to
Identify opportunities, disparities and solutions to increase Black, Indigenous and People of Color (BIPOC) developer participation in the Massachusetts affordable housing ecosystem
Build and engage a network of diverse real estate professionals across the Commonwealth; and
Apply an equity-minded lens to the production and preservation of affordable housing.
The findings from the Listening Tour, as well as recommendations for improvement, have been compiled in the Massachusetts Affordable Housing Emerging Developer Report, which includes data, challenges and opportunities identified through the Emerging Developer Listening Tour and self-identified surveys.
- Read the Massachusetts Affordable Housing Emerging Developer Report