Massachusetts Homeowner Assistance Fund (Mass HAF)
The Homeowner Assistance Fund (HAF) is a federally funded housing assistance program, created by Congress and funded by the American Rescue Plan Act (ARPA). The Massachusetts Homeowner Assistance Fund (Mass HAF) is now accepting applications from homeowners who are at least 3 months behind on their mortgage payments because of the COVID-19 pandemic. The goal of HAF is to prevent foreclosures and displacements of eligible homeowners. This page provides public information campaign materials and training resources to promote Mass HAF.
After June 30, 2023, Mass HAF will no longer accept new applications.
Beginning on July 1, 2023, the state-funded Residential Assistance for Families in Transition (RAFT) program will become available to low-income homeowners who are at risk of foreclosure. At that time, eligible homeowners may apply for RAFT through the Department of Housing and Community Development's Emergency Housing Payment Assistance Portal.
For general information about the Mass HAF program and updates on your application status, contact the HAF Call Center at 833.270.2953, Monday-Friday, 10 a.m. to 8 p.m. (interpreter services are available).
If you or someone you know is experiencing a mental health crisis and/or suicidal thoughts, please call or text 988, which is the national suicide and crisis number. The 988 Suicide & Crisis Lifeline is available 24 hours a day, 7 days a week. You can also access the chat feature on the website: 988lifeline.org/contact-the-lifeline.
If you are looking for qualified professionals for mental health assessments and/or mental health referrals, please contact the Massachusetts Behavioral Health Helpline by calling or texting 833.773.2445 (BHHL). The helpline is available 24 hours a day, 7 days a week. You can also access the chat feature on the website: www.masshelpline.com/contact.
Communication/Public Information Campaign Resources
Here you can find social media content, flyers, posters, and other public information related to Mass HAF. Materials will be available in multiple languages. As they become available, you can also find recordings of trainings and related presentations, including FAQs, for service organizations and staff to better understand Mass HAF. This page will also include information on how to help applicants submit an application.
Videos (to share or embed)
Flyers/Handouts for Homeowners
Consumer Fact Sheets
Consumer FAQs
Pre-Application Checklists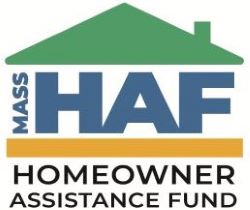 This project is being supported, in whole or in part, by federal award number HAF0174 awarded to the Commonwealth of Massachusetts by the U.S. Department of the Treasury.