Massachusetts Homeowner Assistance Fund (Mass HAF)
The Homeowner Assistance Fund (HAF) is a federally funded housing assistance program, created by Congress and funded by the American Rescue Plan Act (ARPA). The Massachusetts Homeowner Assistance Fund (Mass HAF) is now accepting applications from homeowners who are at least 3 months behind on their mortgage payments because of the COVID-19 pandemic. The goal of HAF is to prevent foreclosures and displacements of eligible homeowners. This page provides public information campaign materials and training resources to promote Mass HAF.
As of September 1, 2022
For new applications to the program, Mass HAF program assistance will be capped at $50,000 per household.
What does this mean?
If a homeowner is eligible for the Mass HAF program, Mass HAF will pay up to $50,000 in assistance. The homeowner's servicer (whoever they pay their mortgage to) may be able to help with a plan to help the homeowner get caught up on the remaining amount owed.
If a homeowner owes more than $50,000, they are encouraged to still apply. The most important thing is to start an application.
**This does not affect applications submitted prior to September 1, 2022.**
Communication/Public Information Campaign Resources
Here you can find social media content, flyers, posters, and other public information related to Mass HAF. Materials will be available in multiple languages. As they become available, you can also find recordings of trainings and related presentations, including FAQs, for service organizations and staff to better understand Mass HAF. This page will also include information on how to help applicants submit an application.
Trainings and Events for Community-Based Organizations and Advocates
FAQs for Community-Based Organizations and Advocates
Sample Social Media Content
Website Content
Videos (to share or embed)
Flyers/Handouts for Homeowners
Consumer Fact Sheets
Consumer FAQs
Consumer Flyers
Pre-Application Checklists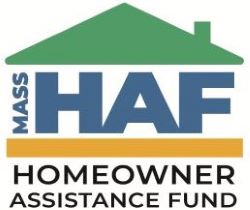 This project is being supported, in whole or in part, by federal award number HAF0174 awarded to the Commonwealth of Massachusetts by the U.S. Department of the Treasury.