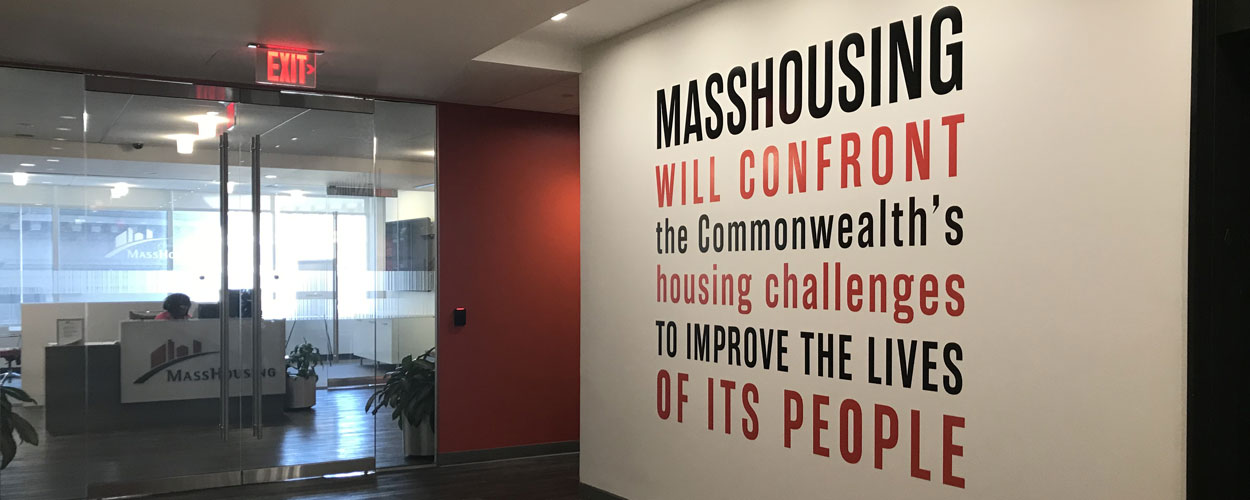 Careers at MassHousing
At MassHousing, we believe a home is more than a roof and four walls. A home is safety and security, opportunity and peace of mind. Our team of talented professionals works to ensure that all Massachusetts residents have a safe, healthy and affordable place to call home. If you share our commitment, we hope you will consider joining us.
Equal Opportunity Employer M/F/V/D
MassHousing is committed to providing an environment of mutual respect where equal employment opportunities are available to all applicants, colleagues and partners without regard to race, color, religion, sex, pregnancy, national origin, age, physical and mental disability, marital status, sexual orientation, gender identity, gender expression, genetic information, military and veteran status, and any other characteristic protected by applicable law. MassHousing believes that diversity and inclusion among our colleagues and partners is critical to our success, and we seek to recruit, develop and retain the most talented people from a diverse candidate pool.
Financial Accountant
Organization: MassHousing
Location: One Beacon Street, Boston, MA 02108
Posting Closes: Close of Business on June 12, 2023
Website: www.masshousing.com
MassHousing recently affirmed its longstanding commitment to diversity and inclusion in its 5-year Strategic Goals.
The Organization
MassHousing will confront the housing challenges facing the Commonwealth to improve the lives of its people. A bold mission for an innovative agency. Since its inception in 1966, MassHousing has provided more than $27.5 billion for more than 125,000 apartments and more than 105,000 home mortgage loans. Beyond lending, we also work to promote economic growth and empowerment for families, individuals, and businesses; help communities increase their housing stock; provide hope and homes for vulnerable populations, and look for new, cost-effective ways to provide equitable housing opportunities. We have a relentless determination to confront the Commonwealth's housing challenges and improve lives.
We know that we cannot meet our mission without a workforce that is committed to standing with us in our efforts. We achieve this by making investments in staff development and prioritizing individuals who align with our values including an unwavering dedication to diversity, equity, and inclusion.
As an employee of MassHousing you are offered a great career opportunity which is more than a paycheck. MassHousing' s total compensation package features an outstanding set of employee benefits which you should consider towards your overall compensation, including but not limited to:
Tuition reimbursement up to $10,000 per calendar year
A 35-hour work week and a hybrid work schedule
Back up Child/Elder Care
Retirement Savings including a pension and a deferred compensation plan (with a match)
Comprehensive health, dental and vision plans
12 paid Holidays per year and generous sick, vacation, and personal time
Short-Term Disability
Central Boston office location, convenient to public transportation and amenities on site
If you're ready to join our dynamic team of mission driven professionals, this might be the job for you! Interested candidates should send a letter of interest and a resume to MassHousing by logging in to https://prd01-hcm01.prd.mykronos.com/ta/6003873.careers?CareersSearch
Position Summary
The Financial Accountant is the entry level position in the Financial Reporting Department and reports directly to the Financial Accounting Supervisor. He/she is responsible for assisting with the accurate and timely preparation of MassHousing's (MH) financial statements, which is the primary tool that allows MH to borrow funds, participate in government programs (GNMA, FNMA, FFB) and develop creative strategies to enable the Agency to further its mission.
Specific Duties and Responsibilities
Perform assigned monthly reconciliations of Cash, Cash Equivalents, Loans Receivable and Debt.
Propose accounting journal entries to the General Ledger as necessary.
Prepare, analyze, and reconcile various assigned monthly and quarterly program package deliverables including balance sheet account proofs, Statement of Cash Flow, Income Statement, Statement of Net Position, quarterly flux analysis.
May prepare fund or program cash flow projections.
Will collaborate with staff in other Departments within Finance and throughout the Agency to research variances in reconciliations.
Perform other duties as assigned by the Financial Supervisor or Manager.
Knowledge, Skills and Abilities Required
Exceptional critical thinking and problem-solving skills.
Strong work ethic and the ability to work independently with minimal supervision, and as a member of a team.
Strong interpersonal and communication skills.
Effective time management and project management skills.
Proficiency with Microsoft Office Suite, especially Microsoft Excel.
Understanding of accounting concepts.
Minimum Education and Training
Bachelor's Degree in Business or Accounting or similar work experience.
0-4 years of accounting experience, Fund Accounting or banking preferred.
Experience with automated General Ledger systems a plus.
Salary Range: $72,956 to $94,842
All positions at MassHousing require a customer service mindset, in accordance with our values: Integrity, Excellence, Collaboration, Respect, Accountability and Service. Inherent in these values is our commitment to diversity, equity, and inclusion for all.
MassHousing is an Equal Opportunity Employer
+ Show Position Description
- Less