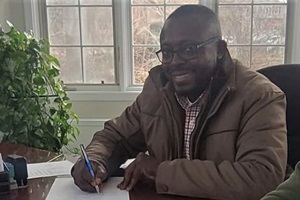 Alvance C was prepared to buy a home and as he began looking, something happened that likely allowed him to become a homeowner a year or two quicker than he anticipated.
Working with Hanchell Maurissaint Gomes, a Loan Officer with Movement Mortgage, and real estate agent Myrna Jean Charles from Weichert REALTORS Blueprint Brokers, Alvance learned about the MassDREAMS program through MassHousing that paid his down payment and closing costs, allowing him to buy a single-family home in Lowell.
"MassDREAMS made things quicker for me and was very helpful in my being able to buy my home," said Alvance. "I am grateful about that. I would like to see (MassHousing) keep doing that program so other people can benefit. It's a good program. I would like to see more people take advantage."
MassDREAMS grants helped more than 1,100 hundred eligible Massachusetts residents purchase a first home by providing them with up to $50,000 in homebuying supports, including down payment assistance, prepaid mortgage insurance, prepaid closing costs and interest rate reductions.
Alvance had been renting in Boston and completed a homebuyer education course before he began his home search. Hanchell and Myrna were very helpful, he said. "They helped me with all my questions and guided me through the process. There were times I got discouraged and there were so many documents to deal with, but they helped me be patient and we got through it. They are true professional people."
"Alvance called me after a friend saw my Facebook post about the MassDREAMS grant," said Myrna. "He said, 'I want to buy a house and I know you can make it happen.' He told me about the post and asked if he would qualify. I got him in contact with Hanchell and the rest is history. He is such a success story and I use him as an example to my other buyers who aren't sure about buying programs in the area."
"Alvance called me right when the MassDREAMS program had just started," said Hanchell. "He mentioned that he was tired of renting and wanted to purchase his own home. The MassDREAMS grant became available at the perfect time and enabled him to purchase his home sooner than he expected. I enjoy helping families achieve homeownership."
Alvance said "It is a special feeling when you know you have your own place. That you know this is your own house. MassDREAMS can help hardworking people make their dream come true. Without this program, it would have taken more time to have this house. It would have been a year or two later."