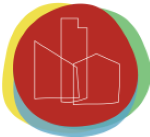 The Neighborhood Hub
The Commonwealth's technical assistance program for community revitalization
Program Overview
The Neighborhood Hub works with Gateway Cities and their regional and nonprofit partners for three years to provide technical assistance grants of up to $200,000 for comprehensive neighborhood revitalization projects.
Selected communities work with Neighborhood Hub staff and local partners to craft projects that respond to the specific needs of the community and neighborhood. For examples of Neighborhood Hub grant activities, view the current Neighborhood Hub projects highlighted below.
+ Show More
- Less
Eligibility
The program is open to the 26 Gateway Cities in the Commonwealth: Attleboro, Barnstable, Brockton, Chelsea, Chicopee, Everett, Fall River, Fitchburg, Haverhill, Holyoke, Lawrence, Leominster, Lowell, Lynn, Malden, Methuen, New Bedford, Peabody, Pittsfield, Quincy, Revere, Salem, Springfield, Taunton, Westfield, and Worcester.
The program is also open to projects that respond to a regional need. All regional projects require a Gateway City as the lead partner and require the identification of a target neighborhood or corridor for small-scale project implementation and focused technical assistance and support.
+ Show More
- Less
Neighborhood Hub Communities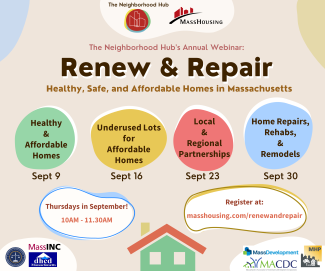 The 2021 Neighborhood Hub Annual Symposium
Renew and Repair: Healthy, safe, and affordable homes in Massachusetts
The 2021 Neighborhood Symposium brought together professionals from housing, public health, government and other fields for a series of in-depth conversations on topics of particular interest for Massachusetts' 26 Gateway Cities: Healthy & Affordable Homes; Underused Lots for Affordable Homes; Local & Regional Partnerships for Affordable Homes; and Home Repairs, Rehabs & Remodels.
Housing in the Gateway Cities Webinar
On September 15, 2020, the Neighborhood Hub hosted a webinar on housing stabilization in the Gateway Cities. The webinar included a presentation by Alan Mallach, Senior Fellow at the Center for Community Progress, statements from State legislators and officials, and a conversation with local practitioners.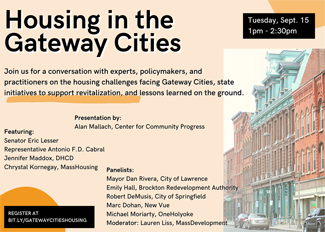 Data show Black and Latino residents increasingly purchasing in unstable Gateway City neighborhoods
In 2007, according to MassINC, 27 percent of the state's Black homebuyers purchased in Boston. But by 2017 that percentage had fallen to 11 percent, a 16-point drop. Over that same time period, the share of Black households purchasing homes in Gateway Cities jumped by 15 points, from 38 to 53 percent.